Emergency Roof Repairs Cheltenham, Gloucestershire
---
Leaking roof? Overflowing gutters? Call on ACT Direct on 01242 518 778 or 07957 408 646 for all your roofing maintenance and repairs.
Sometimes you might need roof repairs as an emergency because of storm damage. Often the first problem you'll notice with the roof is that it is simply letting in water. Either way, an urgent call to ACT Direct will have our roofing experts with you in no time. Whether the problem is cracked, dislodged or broken roof tiles, damaged flashings or leadwork or chimney brickwork, we can quickly diagnose and make good. Emergency roofing can be organised until permanent repairs can be made to your roof, ensuring that you and your family are safe and dry.
---
Roofing Maintenance
---
Regular maintenance of your roofing will help to avoid the need for emergency roof repairs and ACT Direct should be your first point of contact for regular roof checks. Blocked guttering and downpipes can cause water to cascade over brickwork and lead to damp problems in the property. Similarly, old lead flashings can be dislodged or cracked, leading to water getting into the roof space. We will clean out gutters and troughing, check soffits, fascia boards and flashing and repair or replace as necessary. In older properties, lead valleys and flat roof checks will also be carried out, to ensure no leaks are present.

---


New & Replacement Roofing
---
Sometimes repairing a roof is not the answer and ACT Direct can quote for complete roof replacements, including alternatives such as fibreglass roofing or Firestone rubber roofing.
We are qualified and approved to work with EPDM rubber roofing and fibre glass roofing, as well as Cure It GRP Waterproofing System, which combines resin and topcoat and comes with a 20-year guarantee.
We can also fit specialist roof furniture, such as Velux windows or roof skylights, which bring the additional benefit of flooding the room below with light.
---
Replacement Soffits & Guttering
---
Old and damaged soffits, guttering, fascia boards or downpipes should be replaced promptly, to prevent water damage to the building and further structural issues.
Call us to assess what is required and we can have your property wind and water-tight in no time.
We will replace old, wooden or plastic fittings with the latest designs, while ensuring that the new roof furniture is in keeping with the appearance of your home. Call us to discuss your options.
---
Conservatory Roof Repairs
---
Conservatories add to the pleasure of your home and garden, but the roof is often problematic and sometimes leaky!
We can assess and make repairs to your conservatory roof, using quality materials that will allow you to enjoy your investment once again – in the dry.
Cure Condensation Problems in The Roof
---
Adding too much insulation to your roof space can cause issues with condensation, leading to moisture build-up and water seeping through the ceilings into your home. We can advise on ventilation and the correct and most efficient way to insulate your home to prevent condensation in the roof. If you already have a problem with condensation, we are happy to carry out remedial work, including replacing damp insulation, dehumidifying and if necessary providing additional ventilation within the roof. Get in touch to discuss your requirements.
---
Commercial & Industrial Roof Repairs
---
We can quote for the maintenance or repair of commercial and industrial roofing, including emergency roof repairs caused by storm damage or intruders.
For a fast, efficient response, call ACT Direct 24/7 on 01242 518 778 or 07957 408 646.
---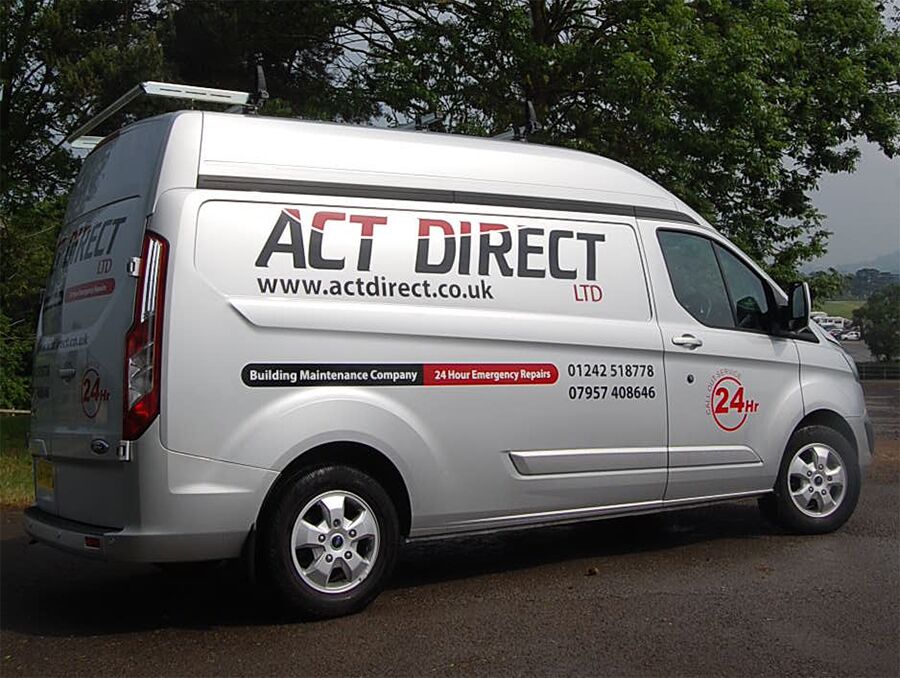 ---
CHELTENHAM, GLOUCESTER & GLOUCESTERSHIRE